Jerusalem belongs to the world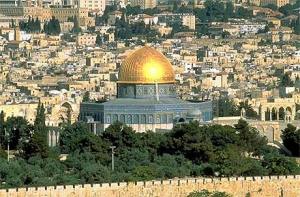 Contrary to Netanyahu's propagations at the annual aipac circus, Israeli Jews have the least claim, not the most, as Juan Cole notes in Top Ten Reasons East Jerusalem does not belong to Jewish-Israelis (h/t Ali Gharib). Jerusalem was not founded by the Jews and pre-dates the Jewish religion. It was likely founded by the Canaanites, the common ancestors of Palestinians, Lebanese, many Syrians and Jordanians, and Eastern Jews. In fact, "It existed for perhaps 2700 years before anything we might recognize as Judaism arose." In contrast to the historical footnote of the kingdom of the Hasmoneans (at most 170 years of Jewish rule), Cole enumerates the historical links to Jerusalem-Al Quds of several other groups with greater claim on what is and should be a city that belongs to the world, and occupied East Jerusalem to Palestine –
[I]f historical building of Jerusalem and historical connection with Jerusalem establishes sovereignty over it as Netanyahu claims, here are the groups that have the greatest claim to the city:
A. The Muslims, who ruled it and built it over 1191 years.
B. The Egyptians, who ruled it as a vassal state for several hundred years in the second millennium BCE.
C. The Italians, who ruled it about 444 years until the fall of the Roman Empire in 450 CE.
D. The Iranians, who ruled it for 205 years under the Achaemenids, for three years under the Parthians (insofar as the last Hasmonean was actually their vassal), and for 15 years under the Sasanids.
E. The Greeks, who ruled it for over 160 years if we count the Ptolemys and Seleucids as Greek. If we count them as Egyptians and Syrians, that would increase the Egyptian claim and introduce a Syrian one.
F. The successor states to the Byzantines, which could be either Greece or Turkey, who ruled it 188 years, though if we consider the heir to be Greece and add in the time the Hellenistic Greek dynasties ruled it, that would give Greece nearly 350 years as ruler of Jerusalem.
G. There is an Iraqi claim to Jerusalem based on the Assyrian and Babylonian conquests, as well as perhaps the rule of the Ayyubids (Saladin's dynasty), who were Kurds from Iraq.
9. Of course, Jews are historically connected to Jerusalem by the Temple, whenever that connection is dated to. But that link mostly was pursued when Jews were not in political control of the city, under Iranian, Greek and Roman rule. It cannot therefore be deployed to make a demand for political control of the whole city.
10. The Jews of Jerusalem and the rest of Palestine did not for the most part leave after the failure of the Bar Kochba revolt against the Romans in 136 CE. They continued to live there and to farm in Palestine under Roman rule and then Byzantine. They gradually converted to Christianity. After 638 CE all but 10 percent gradually converted to Islam. The present-day Palestinians are the descendants of the ancient Jews and have every right to live where their ancestors have lived for centuries.