What are western church leaders doing to protect the Holy Land?
This topic has long been something of a hobbyhorse of mine here at Peoples Geography (*see below for a selection of past posts).  Its an important and urgent topic that I will always do my bit to highlight, and if the military occupation and destruction of Palestine is brought to more people's attention through the lens of their faith rather than their politics, it matters not. I would additionally direct interested observers to also have a look at the The Jerusalem Declaration on Christian Zionism issued by the Eastern Patriarch and Local Heads of Churches In Jerusalem.  As a person with a Levantine Christian heritage, I am proud of their courage and fortitude, as I am of such groups as the Christian Peacemaker Teams, the principled stand of the World Council of Churches, as well as various church groups in the US and Europe whom have voted to divest from and boycott Israel (US campaign, Palestinian campaign). And Jewish peace-groups too who work so actively to counter the zionist entity's crimes committed in their name; a very impressive percentage — reportedly about a third — of the International Solidarity Movement or ISM's active members are Jewish, for example.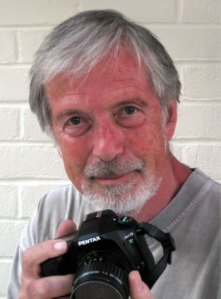 Stuart Littlewood (pictured), in conversation with Angie Tibbs, has some interesting words to say about the profoundly tenacious and courageous clergy, both Christian and Muslim, in the face of the brutal israeli occupation of occupied Palestine, including Bethlehem and Nazareth. Stuart met with several priests and imams in the occupied West Bank and its worth highlighting his observations about the Latin Patriarchate Catholic Church and the apparent lack of action by the Vatican and other denominational leaders, all of whom the zionist entity discriminates against. You can read the interview in full here.
Angie: What towns and villages did you visit in occupied Palestine and what were your impressions?
Stuart: Much of the time was spent with Palestinian priests in their parishes. These are the Church's front-line troops. They are abused and sometimes shot at by the Israelis, yet they remain focused and good-humoured.
[…] I was also shocked by the way the Israelis have systematically trashed the Holy Land and many of its antiquities. Once-beautiful landscapes, many with biblical connections, are now crowned with hideous hill-top settlements or military installations. Town and country planning principles are unheard-of. Israel's vandalism, visible everywhere, has ruined a gentle Arab civilization and its heritage, and that's something else they'll never be forgiven for.
Angie: Are Western church leaders playing a sufficient role in protecting the Holy Land, its religious history, and its people?
Stuart: The Catholic Church, which has a significant presence in the Holy Land and runs a number of schools, appears to be fighting the battle alone. Anglican Church ministers I have spoken to are largely disinterested. Yes, their faith is focused on the Holy Land, they teach the Holy Land texts and they deliver sermons on the Holy Land, but what do they really care about it? One morning they'll wake up and discover that the Holy Land – the central plank to their existence – has been stolen from under their noses.
The Latin Patriarchate of Jerusalem – the Catholic Church in the Holy Land – does its best, but I don't think it gets the support it deserves from the Vatican. As for the rest, they could unite and surely do much more. While Israel was planning its blitzkrieg against Gaza's Muslims and Christians – after blockading and starving them with the British government's connivance – the Archbishop of Canterbury went swanning off with the Chief Rabbi on a visit to Auschwitz, preaching their joint solidarity against extreme hostility and genocide! The Archbishop talked about the collective corruption and moral sickness that made the Holocaust possible. But where was his concern for the shattered Christian remnants in Gaza? Or for the murdered, maimed and homeless Muslims who, many claim, are being subjected to a 'slow genocide'? Let's remember that the Israelis' killing spree left nearly 60,000 homeless and 400,000 without running water, and they still won't allow cement and other reconstruction materials to be brought in.
Did the Pope visit Gaza to show solidarity with his frightened and impoverished flock there?
Pious wofflers in their palaces make me sick, when genuine men of God – those in the front line, the priests, the nuns and the imams – risk their lives as they work round the clock to bring comfort to the victims of political greed and aggression.
Angie: What were your contacts telling you about the conditions in Gaza?
Stuart: One message in particular still haunts me. Fr Manuel Mussallam, the elderly priest in Gaza, emailed to say: "If you wish to really understand what is taking place in the Gaza Strip, please open your Bible and read the Lamentations of Jeremiah. This is what we are living. People are crying, hungry, thirsty, desperate. They need food. Even if there is food for sale, people have no money to buy it. They have no income, no opportunities to bring food from outside and no opportunities to secure money inside Gaza. No work, no livelihood, no future… They have no hope and many very poor people are aimlessly wandering around trying to beg for something from others who also have nothing. It is heartbreaking to see."
He ended: "I beg you, we do not need pity, we need only justice. If you don't give justice, there will be no peace. Peace is the farthest thing away from the mind of anyone, Christian or Moslem, in Gaza at this time."
Angie Tibbs is a writer/activist living in Canada. She can be reached at [email protected]
Stuart Littlewood is a writer/photographer living in the UK. Check out his web pages at Words & Pixels and Radio Free Palestine.

* See also: