Wanted for War Crimes And Crimes Against Humanity
While the Hague-based International Criminal Court (ICC) has apparently been prevaricating on whether it can exercise jurisdiction, there are increasing calls for the creation of a specific ad hoc tribunal to try Israeli war criminals.
Established in 2000, the ICC is the world's first permanent court set up to investigate and prosecute war crimes. Israel and the United States are not among the 108 countries that have signed the Rome Statute creating the court, but that does not prevent the ICC from acting.
A Belgian Court has reportedly undertaken to arrest Tzipi Livni should she visit Brussells; the UN General Assembly and the Human Rights Commission have demanded an investigation into war crimes; Bolivia has pledged to take Israel to the Hague, the Beirut-based ICAI-HOKOK Coalition Against Impunity has lodged a Letter of Referral, and others have also joined the chorus for action by the ICC for Israel's flagrant mass killing of civilians who made up most of the 1300+ killed in Gaza. These war-crimes include the bombing and shelling of schools, hospitals, supply convoys, media and UN facilities, even after assurances; shooting at medical crews; the use of illegal munitions against a civilian population, including white phosphorus shells; the prevention of the evacuation of wounded, and more.

Olmert, who led the rampage in two unnecessary and immoral wars of choice in his brief tenure, Ehud Barak with longer and even more horrifying criminal baggage, and Tzipi Livi, who was most prominent in attempting to justify these war-crimes in international media and who helped spearhead the campaign, are arguably at the forefront of this round of Israeli war criminality.
Among the growing calls amongst civil society, activist, human rights and international law groups are a group of Israelis. While Gush Shalom have also called for war crimes prosecutions, this group is anonymous (see whois information) and have set up a web site, WANTED, describing war crimes by senior Israeli regime officials and Israel Defense Forces (IDF) officers and calling for information leading to their arrests and trial at the ICC at the Hague.
The site, at http://www.wanted.org.il, profiles a Gang of 15: Defence Minister Ehud Barak, Prime Minister Ehud Olmert, Foreign Minister Tzipi Livni, Deputy Defense Minister Matan Vilnai, Public Security Minister and former Shabak heads Avi Dichter and Carmi Gillon, National Infrastructure Minister Binyamin Ben Eliezer, IDF Chief of Staff Gabi Ashkenazi and his two predecessors, Dan Halutz and Moshe Bogie Yaalon, former air force commander Eliezer Shkedy and others: Shaul Mofaz, Amir Peretz, Doron Almog, Giora Eiland.
Click on first screenshot to go to the website, which is available in both English and Hebrew.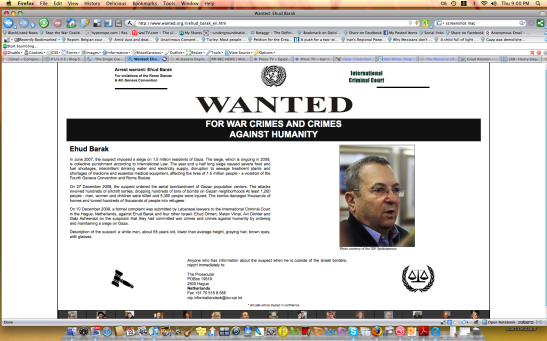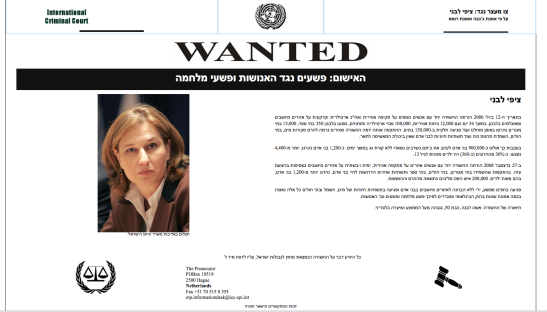 See also:
2009
2005-8