If music be the food of love
… play on, as Shakespeare has said. I'm also reminded of that other wonderful quote that architecture is frozen music (Goethe), which is probably more apt for this image (over the fold).
Addendum: NOTICE OF BLOG BREAK – RETURNING EARLY 2009. Limited posts before full resumption.
In the meantime, feel free to check out my regularly-updated article picks from around the web, as bookmarked at Del.icio.us (streamed on the sidebar on the right of this page) as well as the Archives page. Also check out some of the fine blogs in the Blogroll.
ARCHIVES ::: WEB PICKS ::: POSTS BY CATEGORY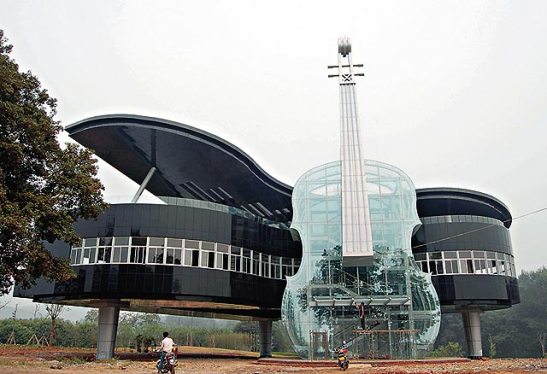 Does anyone know where this inventive structure is located?
Info from this page listing the World's Most Creative Buildings: This unique piano house, recently built, is in An Hui Province, eastern China. The violin houses the escalator to the building. The purpose of the building is to display city development plans in an effort to draw interest into the area.
Check out the Crooked House (Poland), the Dancing House (Czech Republic) and the Basket Building (USA).