Dr H in the Holy Land II: Week One

Last Sunday, after my horrific arrival, I decided to go to church – the Nativity Church – and I went for Sunday mass. Nicholas, one of the security guards, took me there after finishing his night shift. He is Catholic and we went to the Church of St Catherine. They have 2 masses on a Sunday: an earlier one at 9 am and a later one at about 11 am. Despite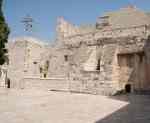 this, I still expected the church to be filled; but I was surprised to see so many empty pews in what I presume is one of the holiest churches in the world. What perhaps stupidly surprised me even more was the fact that the mass was in Arabic! For some reason, I had always had this connection that in a mosque the spoken language was Arabic and in a church the spoken language should be generally English – naïve now I know.
Nonetheless it was interesting to try and make out some of the words in my pigeon Arabic. All hymns were in Arabic but the rhythm of the Lords' Prayer was the same and I could still just about decipher what they were saying. It was mainly filled with Palestinian Christians who were dressed like westerners and tourists.
The Church of St Catherine is attached to the left of the Basilica of the Nativity as you face it. It is more modern and built in a Gothic style. The ceiling is painted pink and there are many arches that line either length of the church, the stained glass window at the fair end depicts St Catherine. The main church of the nativity or Basilica is Greek Orthodox.. when you enter you step into this church you have to bow your head to avoid unconsciousness! It is dark and musky and there are Corinthian columns on either side forming pillars. On the walls, one can just about make out some of the bullet holes and damage from the Israeli occupation on the Church of the Nativity in 2002, which you may recall.
Below the basilica in an underground cave is the grotto of Nativity and this is where Jesus is said to have been born.. the influence is Armenian. In each area – services were being held, in different languages all singing above each other, candles were lit everywhere and incense was burning. As our service came to an end, I lit candles for 2 friends, Jon (may his soul rest in peace) and a friend suffering with rheumatoid arthritis.
A night out
On Tuesday night, I was determined to find Dheisheh camp, however my journey there was short lived. Kat and I were picked up as we were walking down by one of the nurses called Ahmed, I know I was told at some point in the past not to get into cars with strangers…but Kat seemed to know him. We eventually ended up in a coffee shop and he told us his story.. "You know, Doctora H, have you heard of BKU?"
"No… no.. what's that??"
"BKU, BKU, ya'ani you must have heard of it .. you are a doctora".
The penny dropped and I realized he was speaking of PKU – a genetic disorder characterized by a defective enzyme needed to break down phenylalanine an amino acid. When levels of phenylalanine build up this can cause delayed mental and social skills, delayed growth, mental retardation and seizures.
I looked at him and waited for him to carry on.. "My son has BKU, but Doctora, I do not want you to think I am a danger.. ok? I am not a danger and you must not feel dangered". I looked at him and reassured him that I was not worried.
"Well Doctora, when my son was born, after about one year, I knew something was wrong – I went to so many doctors, but they all told me he was fine and to go away. Finally, one doctor told me to come to his clinic and he did this simple blood test, you know on the foot and they found out my son has BKU. And then you know what I was told, I was told if this had been diagnosed from the birth – then my son – he would be ok now? Do you believe that, Doctora?"
Yes, of course, I mumbled. In the UK, it is easy to diagnose PKU and is routinely done – a simple blood test on the sole of the newborn's foot. It can also be easily treated when picked up early.
"Well, Doctora, I was so surprised, that I went back to the first clinic where my son was born and I spoke to the medical director. I asked him why the test was not done? And he replied to me.. that it was done but it was a mistake. They had left it to the side and had not analysed it. I said to him, do you know that this has affected my son's life.. his whole life and now he is damaged?! … He looked at me, and he said, "So many children have this, now you go away", and he pointed to the door.."
Ahmed's voice had risen to a shout and I empathized with his situation. He looked at me and asked "Well, Doctora, what do you think of this situation?"… and as he waited for an answer, I realized I had no choice but to answer. I spoke randomly about the situation in England, about how it was inappropriate to be spoken to in that way, about how mistakes are made and the consequences are enormous, I asked about his son and whether he could walk, talk etc.
He looked at me again "Doctora, I don't want you to think you are in danger.. but do you understand how I felt.. how angry I was? What would you do if you were me?… Well I sat outside in my car and I waited for him, until he came out and then whoosh"…. And he made a swiping action in the air with his arm, I felt my mouth drop to the floor. "Huh", I stuttered… "what does whoosh mean?? Huh??" "Whoosh", he responded calmly. I looked at Kat who was much to my relief as abhorred as I was.
'Whoosh' had meant that he had run him over… with the intent to kill him. "Did he die?", I stammered…. "No, it was not good enough", he responded quietly, "so what do you think, Doctora?"
I looked from him to Kat … and realized again he was waiting for a response.. a response I clearly could not give but above that I had questions. "What happened to the man, what happened to Ahmed? How long was he in prison for? How did he get out of prison? Is the director still working there?" and so the questions went on…
And still he went on.. "You are not in danger from me, Doctora", as I sat there wondering how I could be sitting in a coffee shop with this man.
I guess a normal Tuesday evening in Bethlehem…
I have heard about the incident in Jerusalem, but I guess what you don't know is that since the peace talks started, Palestinians have been killed on a daily basis.. the international media and world are just not aware. Of course, I am condemning what happened….but tragically once again the Israelis are collectively punishing a whole community for a single man's actions with plans that all residents of the district from where the man is from should be "stripped of their ID cards", undoubtedly making them more restricted, more likely to be placed in prison and without an identity.