Nakba Day 2008 (يوم النكبة Yawm al-Nakba)
See also Mazin Qumsiyeh's reflections for this year at Nakba day – يوم النكبة Yawm al-Nakba 2010
Palestinians mark the 60th anniversary of the Nakba with, among other things, large symbolic keys and black balloons over Al Quds-Jerusalem.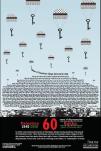 This video clip comes from our good friends over at the great Italian Guerrilla Radio site (4.36)
The US Campaign to End the Israeli Occupation also has this striking poster and terrific advertisement (click on thumbnail for larger image).
The Campaign will be placing more than 1,000 of these posters on the streets of Manhattan, educating New Yorkers about the ethnic cleansing of Palestine in 1948 and the right of return for Palestinian refugees.