Carter blasts Blair, calls Bush admin "worst in history"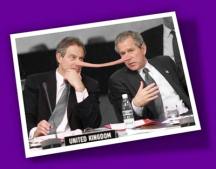 Its true that when an establishment figure actually tells the truth in plain terms, minus the anodyne-speak of overly smooth politicians (and outright lies), they perhaps receive slightly more credit than they deserve.
It is somewhat akin to the husband in a traditional role couple being lauded and praise heaped upon him simply if he does the dishes.
So if it appears that the kudos are being liberally handed out here (Jimmy Carter on Palestine, Ron Paul on US policy generally, sans his acceptance of the blowback thesis as it pertains specifically to 911), please keep this in mind. It doesn't mean an uncritical or wholesale acceptance of everything they might say.
But giving credit where its due, even if its not quite there (as any educator knows) also serves to encourage rather than discourage the person's efforts. So there is a place for the critics of Carter's book who quite rightly argue that it doesn't go far enough, for example, and that there is in fact worse-than apartheid policies practised by Israel, or that Carter's own foreign and domestic policy was far from perfect. Equally, however, there is a place for acknowledging and encouraging the glass-as-half-full and recognising the results of these efforts.
Well, this is all a somewhat rambling preamble to a short (3 minute) audio clip from Jimmy Carter in which he speaks plainly about his view of Blair's abominable, subservient role in complicity with the Bush administration neocons in the invasion of Iraq.
Carter, interviewed on Radio 4's Today programme, calls Blair's support for Bush "abominable, blind and subservient". In a completely unwarranted and unnecessary invasion of Iraq, Carter continues, Blair's support lent credibility to the Bush neocons war. "I think that the almost undeviating support by Great Britain for the ill-advised policies of President Bush in Iraq have been a major tragedy for the world."
Yes, indeed-y. It comes now as Blair's successor Brown pledges to pull most (though not all) British troops out of Iraq in a bid to re-gain some of the disaffected Labour voters. If we can't see him on trial for war crimes, let's at least hope we see the end of public life for Lord Blair, that "vicious little man" as Robert Fisk has called him, and that he doesn't go on to an international role (his name has been tossed around to succeed Wolfowitz at the World Bank, by convention a role usually taken up by an American). Stocktake of the Iraq war criminals: Asner (Spain) out. Blair out. Bush, 610 days to go. Howard (Australian PM) to face polls soon, and he is not looking crash hot in his own seat, where I work. Yes, the neocons on Capitol Hill are still around, albeit facing greater scrutiny and hopefully wielding less influence.