What's your political compass?
Are you a liberal? Been told you're somewhere to the Right of Genghis Khan? ;) Are you libertarian or a radical? Or radically libertarian (and is there a difference?) Can we really measure and situate our political positions in a way that goes beyond mere labels anyway, and can our political leanings be mapped given that some words mean different things in different parts of the world? 'Liberal' is an extremely broad church, for example. It can be used both to describe the ideas of John Stuart Mill and contemporary lefties alike, with a gulf of a couple hundred of years in between and an ambiguity and elasticity of the term, as with many others.
Test time! A conversation with my good blogger friend Jack (who has his own model: check it out) has prompted me to post for your enjoyment and bemusement two quizzes that claim to be able to locate your political positionality. For many, among them the creators of these quizzes, the simple one-dimensional left-right spectrum is increasingly becoming less tenable and more political models are now two- or three-multidimensional with multiple axes.
These tests are imperfect instruments, and are not and can not be "scientific". I also think a lot of tests can not claim to be value-free themselves and that some of the political proclivities of the creators may sometimes filter through. They also do not so far seem to constitute so much a departure from the traditional L-R axis as simply subsume and add to it. In the two quizzes I've featured below too, some of the question set-up and wording may leave something to be desired, but all up I think they're an interesting experiment nonetheless.
These two quizzes are in some respects a study in contrasts. One asks many interesting questions, the other distills it into just ten short ones. I only just took the latter test a few minutes ago while I took the Political Compass several years ago. Anyway, without much more commentary, here they are and I'd be interested in your results (mine follow).
Have a go: –
The World's Smallest Political Quiz (more on the background of this quiz here and political spectrums in general here)
My Results:
1. The World's Smallest Political Quiz: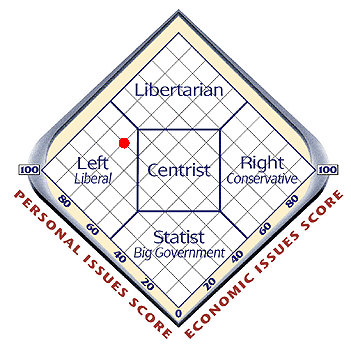 2. The Political Compass
Scores along these axes:
Economic Left/Right: -6.38
Social Libertarian/Authoritarian: -6.31
(unfortunately the graphic goes all askew when I attempt to insert it here)
Enjoy the weekend and if there is a peace rally for Iraq in your city tomorrow, please consider attending. I will be participating in the march here. Its the 4th Anniversary of this terrible war.