Falafel Recipe
Recently requested from a friend, this is mum's homemade falafel recipe. Apart from being just delicious and an excellent way to get your legumes and veggie proteins, I thought I'd post it to help break up the verbiage. ;)
Let me know if you venture towards the kitchen to have a go with this one. Just don't let me hear of you resorting to any powdered falafel in packets now, y'hear? There's no comparison with the real deal. Making a batch takes just a bit of effort (I should talk, I've yet to make it entirely myself), but can be frozen to last for several meals.
FALAFEL – 
فلاف
+ tahini sauce
Serves 8 — may be frozen so a good idea is to separate into 4 batches suitable for servings for two, or any other combination you choose depending upon known numbers.
Measurements are metric (imperial conversions in parentheses)
What you'll need: ingredients
500 grams (16 oz) chick peas (tinned fine; fresh is best)
500 grams broad beans (dry)
1 bunch of fresh continental parsley
1 bunch of fresh coriander
2 cloves of garlic
2 teaspoons salt (can be less if desired)
1 teaspoon pepper
1 teaspoon baking powder
Vegetable cooking oil (I always use olive but any good oil is fine)
For tahini: tahini paste, 1 lemon
For roll: Lebanese or lavash bread or pitta bread aka Middle Eastern flat bread
To add in roll: tomato, lettuce, onion, pickles (if desired)
The broad bean or fava bean
Optional: chilli, sumac, cumin
Equipment: food processor or blender, mixing bowl, colander or strainer, cutting board, frypan.
Instructions: falafel
Broadbeans and chickpeas should be soaked overnight or, if possible, for 24 hours prior to use. If you can manage the latter, change water of broadbeans up to 3 times.
Drain broadbeans and chickpeas for half an hour from excess water.
Wash and coarsely chop the continental (also known as flat) parsley and coriander (coarse chopping is fine as will be placed in blender/ food processor)
Place broadbeans, chickpeas, garlic, parsley and coriander in blender, adding salt, pepper and baking powder. Adding a touch of chilli and/ or cumin is optional.
Blend all to coarse texture akin to crunchy peanut butter (ie not too smooth or fine).

Place mixture from blender into bowl
Set aside desired amount of falafel batter and divide and freeze the rest.
Pre-heat shallow fry-pan with oil
Using palms, form falafel into balls slightly smaller than tennis ball size and flatten slightly into patties. A pattie maker (as shown in photograph) may be purchased from continental delis or other stores but is not necessary.
Place in hot pan and lightly fry til crispy brown on the outside. The outside 'mantle' will be crunchy; inside will still be soft, slightly moist and naturally colored, broadbean-light green.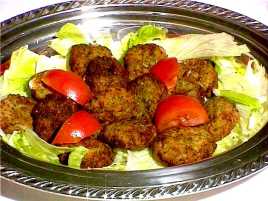 Tahini sauce (serves two; simply double amounts for 4)

Mix a quarter cup tahini paste (tahini is 100% sesame seed paste), a quarter cup of water with juice of one lemon and a pinch of salt, adding water and lemon juice gradually. Finished result should be the texture of cream. Done!
Making your sandwich (may also be served on a plate)

After frying, prepare a leaf of round flat bread and place 3 to 4 falafel rolls in the middle of the bread, squashing slightly.
Add fresh tomatoes, lettuce, onion, pickles as desired. Homous is sometimes added either in place of or in addition to tahini, but I didn't want to complicate it with a third recipe … Tabouli can also be added.
Drizzle tahini sauce over falafel and roll sandwich up.
Optional: Season with a sprinkle of sumac (deep red coloured Middle Eastern spice)