Ben Heine's amazing exhibition at the Art Loft
UPDATE: Ben has mirrored this post at his excellent blog: check it out 
Imagine being able to teleport yourself inside a virtual world, across different locations and visit and interact with your virtual friends. You can fly, communicate, move at will, buy artwork, heck, there's a lot you can do. Welcome to a preview of the future via Second Life, a 3D online digital world created by its 2 million residents.
A trippy experience it is. You choose what you wear, how you appear, how you move, it is all disarmingly real. You are a 3D cartoon of yourself in a realistic virtual world. A precursor to Star Trek's holodecks, perhaps, or the Matrix's … matrix.
Now imagine being invited to an art exhibition with other guests, interacting in real time. And the featured artist is none other than the brilliant Brussels resident Ben Heine, whose magnificent politically aware and culturally savvy artwork can be seen adorning so many posts, pages, sites, and other places around the world.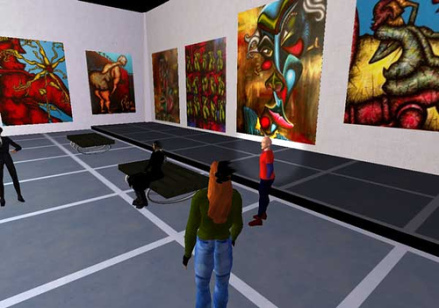 (Ben and Servant at the Art Loft surrounded by Ben's magnificent pop surrealist art. This SL screenshot courtesy of Servant)
The Art Loft is a popular gallery in the virtual world of Second Life and is invested with a mission of promoting real art in a virtual world.
Ben's art featured some of his awesome work in the pop surrealism genre (see screen-shots from Art Loft).
"My paintings intend to convey emotion in an inventive approach and through expressive provocations. The paintings presented here are rather mystical with symbolic touches and could be classified as erotico fantastico burlesque. I have been deeply influenced by German Expressionism, Belgian Surrealism and American Pop Art." — Ben Heine
Here are three of Ben's Paintings (which can be bought — see embedded links). My favourite is the one on the left: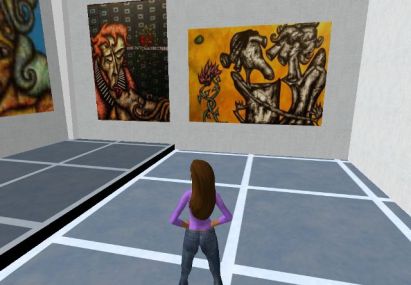 For me, this visit was very capably promoted by Servant who features an excellent write-up of his first Second Life encounter and visit to the Art Loft. Ben had put up a notice about it on his blog and Servant ran with it, enthusing us. Global guests synchronised by Belgium time on Friday afternoon (thankfully Saturday morning for me at a seemly hour) and arrived at The Art Loft for the exhibition. Upon arriving, Karen Screiner, one of the other great artists, welcomed me and noted my chosen surname (Boyd), immediately recognising it as a great Australian art family. I was very impressed. These artists are smart people.
I then had the pleasure of meeting Ben, Servant and others, including a resident gallery cat!
Ben was a great host welcoming his guests and didn't skip a beat answering the many questions coming his way. It was curious to have 3D Ben guiding us in, saying "This way" to us guests into his virtual exhibition space. His artworks were featured brilliantly on the virtual walls.
Servant was his always smart, charming, and very funny self. He seemed to have it all figured out – sitting, standing, gestures, drinking champagne, what doesn't the man do? I kept walking into walls and bumping into him but he gave me some good tips about the interactive keyboard controls. The resident cat would periodically meow loudly and then comically get shot, presumably up to nine times. ;)
I only stayed an hour and it flew by. The Art Loft can be visited by anyone, anywhere, and registration is free. The only caveat is that you need a strong, fast connection to download and use the Second Life program.
BEN HEINE'S BIO
Ben Heine was born in Abidjan, Ivory coast in 1983. He studied Communication and Journalism at the Institut des Hautes Etudes des Communications Sociales in Brussels and Painting and History of Art at the Académie Royale des Beaux Arts de Bruxelles and at the Hastings college of Arts & Technology in England. In addition to his classical studies he is also a self-made painter, cartoonist and illustrator. He currently draws political cartoons relating to international and Belgian issues.
Check out his websites: