Kilroy was here!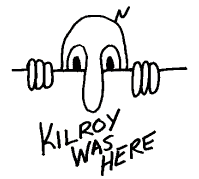 If you don't already know of this ubiquitous, sometimes bug-eyed, mischievous doodle first spread by American servicemen–as I didn't til last month–the legend is an interesting one.
I learned about it because Kilroy was here, visited upon this site Nov 29, quite fittingly by an ex US Marine, my good friend Servant aka Kilroy.
Kilroy was the most popular of his graffiti type in World War II. The Canadians had Clem, the British had Chad and Australia Mr. Foo, but Kilroy was king for sheer ubiquity.
Kilroy was here is an American serviceman's motto, a piece of graffiti, a legend and part of popular culture; he is the subject of a dedicated poem, a character in a Tennessee Williams play (Camino Real), the title of a 1983 album by the band Styx, and has been used in numerous science fiction novels, sitcoms and movies.
Legend has it is that the graffiti is located on various significant and/or difficult-to-reach places. Wikipedia lists them as:
the torch of the Statue of Liberty, on the Marco Polo Bridge in China, in huts in Polynesia, on a high girder on the George Washington Bridge in New York, at the peak of Mt. Everest, on the underside of the Arc de Triomphe, scribbled in the dust on the moon, in WWII pillboxes scattered around Germany, around the sewers of Paris, and, in tribute to its origin, engraved in the WWII Memorial in Washington D.C. (picture below)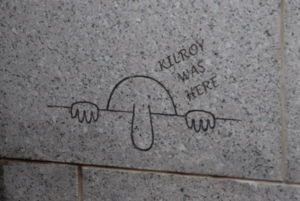 So who was Kilroy and how did this practice start?
The most plausible explanation posited is that it originated with James J. Kilroy, an American shipyard inspector during WWII, who used it as his signature. Inspecting rivet holes in troop ships before their launch, he'd mark "Kilroy was here" in yellow crayon on bulkheads to show that he had been there and inspected the riveting in the newly constructed ship.
Troops took to this notion that some mysterious wag "had been there first" and they soon began writing the same thing wherever they landed, commonly accompanied with the cartoon. Kilroy became the US super-GI who always got there first, wherever they went. It became a challenge to place the logo in the most unlikely places.
So ubiquitous was the graffiti that towards war's end Adolf Hitler was allegedly convinced that Kilroy was an American super soldier or superspy and ordered undercover agents to capture him.
Just some of its appearance in popular culture — for more see here:
Tennessee Williams used the name for a character in his 1953 play Camino Real.
Isaac Asimov published a fictional short story entitled "The Message" (1955) which is the story of a 30th-century historian named George Kilroy who travels back in time to witness historic events. It is while witnessing the first allied beach assault landings of World War II in Africa that Kilroy first leaves his mark, scratched into a shack on the beach. This short story may be found in Asimov's short story collections Earth Is Room Enough or The Complete Stories Volume 1.
In the podiobook 7th Son, a computer hacker who claims to be everywhere and be able to find out anything calls himself Kilroy 2.0.
In the an episode of the "Flintstones", Fred and Barney find themselves in the mouth of a whale, and carved on a whales tooth is "Kilroy was Here"
Here are the last two stanzas of the poem Kilroy inspired, written by Peter Viereck
KILROY
God is like Kilroy. He, too, sees it all;
That's how He knows of every sparrow's fall;
That's why we prayed each time the tightropes cracked
On which our loveliest clowns contrived their act.
The G.I. Faustus who was everywhere
Strolled home again. "What was it like outside?"
Asked Can't, with his good neighbors Ought and But
And pale Perhaps and grave-eyed Better Not;
For "Kilroy" means: the world is very wide.
He was there, he was there, he was there!
And in the suburbs Can't sat down and cried.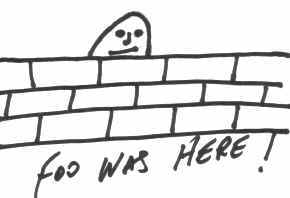 WWI Foo