Iraq Study Group (ISG) Report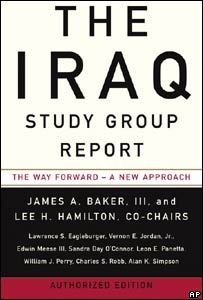 FULL TEXT available at various hosts: FT, BBC, USIP (.pdf, 160pp, opens in new window)
Iraq Study Group report: Excerpts from BBC
The Iraq Study Group, a US cross-party body charged with reviewing policy on Iraq, has issued a long-awaited report. Below are key quotes from the executive summary.
INTRODUCTION

The situation in Iraq is grave and deteriorating…

If the situation continues to deteriorate, the consequences could be severe. A slide toward chaos could trigger the collapse of Iraq's government and a humanitarian catastrophe…

Our recommended course has shortcomings, but we firmly believe that it includes the best strategies and tactics to positively influence the outcome in Iraq and the region.
EXTERNAL APPROACH

The United States should immediately launch a new diplomatic offensive to build an international consensus for stability in Iraq and the region… Iraq's neighbours and key states in and outside the region should form a support group to reinforce security and national reconciliation within Iraq…

The United States cannot achieve its goals in the Middle East unless it deals with the Arab-Israeli conflict and regional instability.

There must be a renewed and sustained commitment by the United States to a comprehensive Arab-Israeli peace on all fronts… This commitment must include direct talks with, by, and between Israel, Lebanon and Palestinians (those who accept Israel's right to exist), and Syria…

The United States should provide additional political, economic, and military support for Afghanistan, including resources that might become available as combat forces are moved out of Iraq.
INTERNAL APPROACH

The primary mission of US forces in Iraq should evolve to one of supporting the Iraqi army…

By the first quarter of 2008, subject to unexpected developments in the security situation on the ground, all combat brigades not necessary for force protection could be out of Iraq…

The United States must not make an open-ended commitment to keep large numbers of American troops deployed in Iraq.
CURRENT RELATED IRAQ LINKS:
A new United Nations report says Iraq is "hemorrhaging" refugees in staggering numbers. Between 2,000 and 3,000 people are fleeing the country every day. After three and a half years of nearly constant violence, at least 1.5 million Iraqi refugees have moved to neighboring countries, reshaping the already complex demographic mosaics of Jordan, Syria and Lebanon.
"No one can guarantee that any course of action in Iraq at this point will stop sectarian warfare, growing violence or a slide toward chaos," the panel's two chairmen, former Secretary of State James A. Baker III and former Democratic Congressman Lee Hamilton, wrote in a joint letter accompanying the 142 page report. "There is no magic formula to solve the problems of Iraq." The 79 recommendations include the withdrawal of most U.S. combat troops by early 2008, but with a large force left behind to train and assist Iraqi security and military personnel. It also proposes setting benchmarks for Iraq to assume control of its own security, and threaten to reduce military or financial aid if deadlines are missed. A broad diplomatic initiative, including overtures to Iran and Syria and renewed efforts to broke an Israeli-Palestinian peace deal, is also recommended.

"If current trends continue, the potential consequences are severe," with sectarian clashes spreading, Al Qaeda claiming at least a propaganda victory, and U.S. stature in the world diminished, the report found. Given the stakes, and the responsibility the U.S. holds for invading in the spring of 2003, "the United States has special obligations," and needed to "address as best it can Iraq's many problems."
Only an American commitment to withdraw will create an incentive for Iraq's thousands of insurgents to de-escalate the violence and turn to the tasks of reconstruction and reconciliation. According to all reports, America's presence is the cause of the violence, not its remedy. While there is no assurance that violence will end overnight if American troops withdraw, it is evident that there was no civil war before the American invasion and occupation of 2003. The longer the American occupation, the more Iraqis have turned against it. American withdrawal will remove the primary rationale, and sharply reduce the base, for continued armed resistance from al-Qaeda in Iraq as well.

Thank you Tom — sounds good to me.