Sophisticated ancient computer bedazzles
What a marvel. Only have time to excerpt extracts below at present but couldn't pass up highlighting this amazing discovery of extraordinary ancient technical sophistication.
Ian Sample, Mysteries of computer from 65BC are solved, Guardian, 30 Nov
· Mechanism hailed as more valuable than Mona Lisa
· Device with gear wheels tracked sun and moon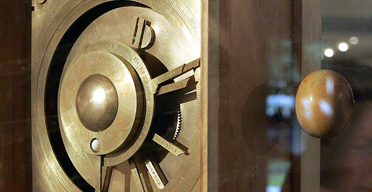 A reconstruction of the Antikythera mechanism. Photograph: Louisa Gouliamaki/AFP/Getty

A 2,000-year-old mechanical computer salvaged from a Roman shipwreck has astounded scientists who have finally unravelled the secrets of how the sophisticated device works.The machine was lost among cargo in 65BC when the ship carrying it sank in 42m of water off the coast of the Greek island of Antikythera. By chance, in 1900, a sponge diver called Elias Stadiatos discovered the wreck and recovered statues and other artifacts from the site.
Since its discovery, scientists have been trying to reconstruct the device, which is now known to be an astronomical calendar capable of tracking with remarkable precision the position of the sun, several heavenly bodies and the phases of the moon. Experts believe it to be the earliest-known device to use gear wheels and by far the most sophisticated object to be found from the ancient and medieval periods.
One of the remaining mysteries is why the Greek technology invented for the machine seemed to disappear. No other civilisation is believed to have created anything as complex for another 1,000 years. One explanation could be that bronze was often recycled in the period the device was made, so many artefacts from that time have long ago been melted down and erased from the archaelogical record. The fateful sinking of the ship carrying the Antikythera Mechanism may have inadvertently preserved it. "This device is extraordinary, the only thing of its kind," said Professor Edmunds. "The astronomy is exactly right … in terms of historic and scarcity value, I have to regard this mechanism as being more valuable than the Mona Lisa." The research, which appears in the journal Nature today, was carried out with scientists at the National Archaeological Museum of Athens where the mechanism is held and the universities of Athens and Thessaloniki.
John Noble Wilford, An Ancient Computer Surprises Scientists, NY Times, 29 Nov
It seems clear, Dr. Charette said, that "much of the mind-boggling technological sophistication available in some parts of the Hellenistic and Greco-Roman world was simply not transmitted further," adding, "The gear-wheel, in this case, had to be reinvented."