Grandmother driven to blow herself up
As Ressentiment says, Happy TANKSGIVING America. And may your grandmothers never be moved to desperation amid US funded Israeli savagery.
Woman, 64, blows herself up in attack on Israeli troops
· Suicide bombing follows killing of grandson
· Eight other Palestinians die in Gaza operations
Rory McCarthy in Jerusalem
Friday November 24, 2006
The Guardian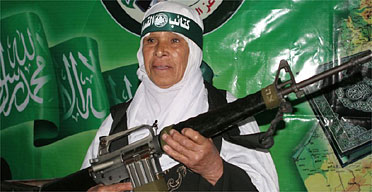 In this photo released by Hamas, Fatma Omar An-Najar is seen holding a rifle before carrying out a suicide bombing next to Israeli soldiers in the northern Gaza Strip. Photograph: AP

A 64-year-old Palestinian woman blew herself up as a suicide bomber in Gaza yesterday in an attack on Israeli troops.Two soldiers were slightly injured when the woman, apparently a supporter of the Hamas militant group, detonated explosives strapped to her body, becoming the conflict's oldest suicide bomber.
Eight other Palestinians were killed yesterday as the Israeli military staged operations across the northern Gaza Strip aimed at stopping rocket fire into Israel.
Troops were going through Jabaliya refugee camp when they saw a woman acting suspiciously, the Israeli military said. A soldier threw a stun grenade at her and she detonated the explosives.
Hamas, which claimed responsibility for the attack, named the woman as Fatma Omar An-Najar and said that she lived near the refugee camp. Her oldest daughter, Fatheya, said she decided to become a bomber because her grandson had been killed. "They [the Israelis] destroyed her house, they killed her grandson – my son," she told the Associated Press. "Another grandson is in a wheelchair with an amputated leg," she said. "She and I, we went to the mosque. We were looking for martyrdom." Other relatives said the woman had nine sons.
There has been an increase in the role of women among militant groups. Earlier this month a woman suicide bomber struck in Gaza during an Israeli military operation. In a third incident hundreds of women supporters of Hamas wearing headscarves and long cloaks marched into the town of Beit Hanoun during an Israeli incursion in an attempt to free dozens of armed militants holed up in a mosque. Two of the women were killed.
Yesterday a Hamas spokesman, Abu Obeideh, said the attack was part of the group's tactics. "We told the Zionist enemy we will meet it with many surprises … and this is one of the surprises," he said.
Israel's security cabinet met on Wednesday to consider a strategy for Gaza and decided to begin targeting "Hamas institutions" but stopped short of ordering the full-out assault in Gaza that some in the government have pushed for.
Palestinian militant groups offered Israel a partial truce last night, saying they would stop rockets attacks in exchange for a cessation of attacks on the Gaza Strip and the West Bank.
Two Israeli civilians were killed in the past 10 days in the town of Sderot, just over the border from Gaza. Three Israeli soldiers have also been killed since late June when the capture of an Israeli soldier triggered the latest wave of violence.
However, the toll on the Palestinian side has been much higher. Between late June and November 15 a total of 375 Palestinians were killed in Gaza, according to the latest figures from the reputable Israeli human rights organisation B'Tselem. Among the dead were 199 people who the group determined were not taking part in the fighting when they died. Of that number 74 were under the age of 18.
Separately in Jerusalem, Louise Arbour, the UN high commissioner for human rights, said yesterday that there needed to be a system of accountability to investigate cases where lethal force had been used in the conflict.
"Evidence shows that an effective system of accountability, including personal criminal accountability, will lead to a change in the approach in the use of force," she said.