Halliburton was here, and other visitors
Most webloggers are interested in at least casting a glance now and then at page stats relating to visitors – where they're from, what web browsers they use, what referring URLs and search terms bring them to your site, and other notable statistics.
This is the regional location of you good people who visit this site, for example (changes daily):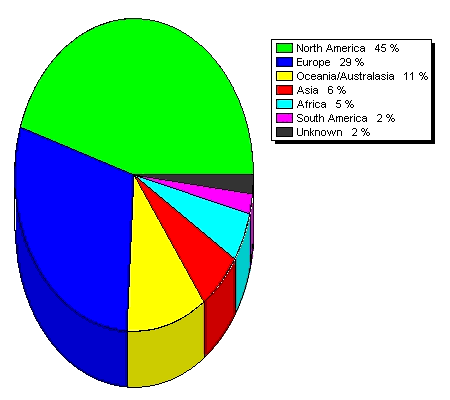 Recently, a couple of visitors stood out by their conspicuous domains: Boeing and Halliburton. What page did the browser from Boeing visit? 'twas Ralph Nader's article on The End of Habeas Corpus and the Belligerent Despot in Chief.
I was curious to see what the Halliburton reader (presumably a Halliburton employee) read. The page viewed was an article comparing George W. Bush to Nero: http://peoplesgeogra…/14/nero-not-hitler/
Cheney to admin assistant (snarl) … "What are people saying about us? They're calling Bush Nero? What about me? I'll give Chavez some more sulphur to sniff, I'm way more evil" … (snarl, snarl)
Excuse my being facetious. I'm trying to recover my sense of humour in the dark days of the waning neocon empire. The upshot of all this is the far more valued guests are you — thanks for dropping in and please do call in again anytime :)
Domain Name

halliburton.com

? (Commercial)
IP Address

64.154.26.#

(Level 3 Communications)
Location

| | | |
| --- | --- | --- |
| Continent | : | North America |
| Country | : | United States (Facts) |
| State | : | Texas |
| City | : | Houston |
| Lat/Long | : | 29.7755, -95.4152 (Map) |

Operating System
Microsoft WinXP
:
United States (Facts)
State
:
Texas
City
:
Houston
Lat/Long
:
29.7755, -95.4152 (Map)