Politicising Saddam verdict for US mid-term elections
See White House Launches Campaign To Politicize Saddam Verdict Ahead of Midterm Elections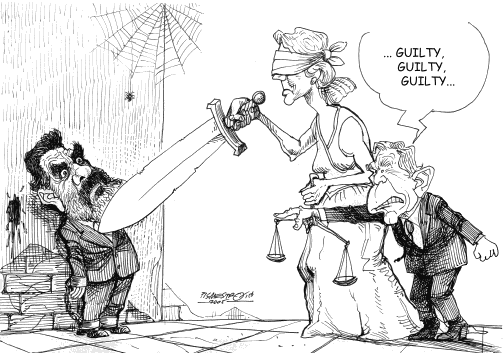 Bush Dynasty's Fall Guy (as abhorrent as he was)
Now all that's needed is a new Osama or Al-CIA-duh video to scare the American public into maintaining the status quo … (please 'xcuse the skepticism, as manifest in the cartoon):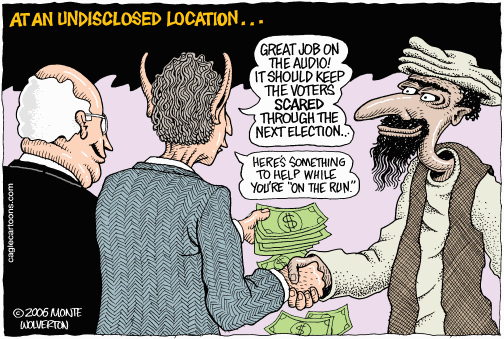 And of course, don't tell BushCo that the closest allies and neighbours of the US., including people polled in the UK and Canada, see this (mal)administration as a threat to world peace according to an international survey of public opinion just published.
Nope, those faulty Diebold/ Sequoia/ES&S machines will 'fix' things … (New Worries Abound about Reliability of US Voting Machines (AFP); Glitches in early voting (Miami Herald, 28 Oct); 'We vote, but who's counting?' (Baltimore Sun, 2 Nov); How to Stop the November Elections from Being Stolen (AlterNet 30 October, 2006); Midterms: Recipe for a Cooked Election (Greg Palast in Yes Magazine, Fall 2006 issue); Robert F. Kennedy: Will the Next US Election Be Hacked? (Rolling Stone, 5 October 2006).
Reclaim your democracy, America!