Ilan Pappe: The Ethnic Cleansing of Palestine
Out next month ; draws upon recently declassified military archives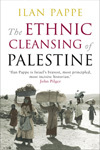 The Ethnic Cleansing of Palestine by Ilan Pappe
Details: Casebound | 336 pages | ISBN 1-85168-467-0 | Nov 2006 | …………………………………………………….
Advance praise for this book – Ilan Pappe on Sky News (Run-time 6:57)
The 1948 Palestine-Israel War is known to Israelis as 'The War of Independence', but for Palestinians it will forever be the Nakba, the 'catastrophe'.
Alongside the creation of the State of Israel, the end of the war led to one of the largest forced migrations in modern history. Around a million people were expelled from their homes at gunpoint, civilians were massacred, and hundreds of Palestinian villages deliberately destroyed. Though the truth about the mass expulsion has been systematically distorted and suppressed, had it taken place in the twenty-first century it could only have been called 'ethnic cleansing'.
Prominent Israeli academic Ilan Pappe argues passionately for the international recognition of this tragedy. His groundbreaking and controversial work sheds new light on the origins and development of the Palestinian–Israeli conflict, asking questions that the world has so far failed to ask to reveal the real story behind the events of 1948. Based on meticulous research, including recently declassified Israeli archival material, Dr. Pappe's vivid and timely account demonstrates conclusively that 'transfer' – a euphemism for ethnic cleansing – was from the start an integral part of a carefully planned strategy, and lies at the root of today's ongoing conflict in the Middle East.
ILAN PAPPE is an Israeli historian and senior lecturer of Political Science at Haifa University. He is also Academic Director of the Research Institute for Peace at Givat Haviva, and Chair of the Emil Touma Institute for Palestinian Studies, Haifa. He is the author of a number of books, including A History of Modern Palestine, The Modern Middle East and The Israel/Palestine Question.
"Ground breaking research into a well kept Israeli secret. A classic of historical scholarship on a taboo subject by one of Israel's foremost New Historians." Ghada Karmi – Institute of Arab and Islamic Studies, University of Exeter, England, UK
"Ilan Pappe is Israel's bravest, most principled, most incisive historian" John Pilger
Ilan Pappe addresses the Palestine-Israel conflict and links the ethnic cleansing of 1948 to prospects for a lasting peace in the region in his new book, "The Ethnic Cleansing of Palestine" (to be published by Oneworld Publications, November 2006).

As Israel stands accused by Amnesty International of committing war crimes in Lebanon following its almost 5-week bombardment of that country, which left over a thousand civilians dead and almost a million displaced, a prominent Israeli historian at HaifaUniversity revisits the formative period of the State of Israel to investigate the treatment of the indigenous Palestinians.

In his controversial new book, "The Ethnic Cleansing of Palestine," Ilan Pappe investigates the fate suffered by the indigenous population of 1940s Palestine at the hands of the Zionist political and military leadership. During this period, around a million people were expelled from their own country at gunpoint, civilians were massacred, and over 400 Palestinian villages deliberately destroyed. Denied for almost six decades, had it happened today it could only have been called "ethnic cleansing."

With meticulous research, and drawing heavily on recently declassified military archives and cabinet meeting minutes, as well as the diaries and memoirs of the key players, Pappe methodically reconstructs the strategic planning and military operations during the British Mandate and the run-up to independence. He goes on to offer a detailed account of the events of 1947-8 as they unfolded, which eventually led to one of the biggest refugee migrations in modern history.

This is no moral rant against the past, but a passionate plea to acknowledge the ethnic cleansing of Palestine in 1948 as the root cause of the ongoing Palestine-Israel conflict. Pappe argues persuasively that the consequent dispossession of a million native Palestinians from their homeland, and the continued denial of their right of return, constitute an abuse of international human rights, which he decisively links to Middle East politics today, and the prospects for a lasting peace in the country and, therefore, in the region. [Source]