These are a few of my favourite things …
… with apologies to Julie Andrews :)
Right, so much heavy-duty stuff – wars, ethnic cleansing, occupation. A light-hand is needed to balance things.
Several weeks ago a most delightful thing happened. A book — the sequel of one of my favourite childhood books – landed right in my mailbox after an almost twenty year search.
That childhood favourite is the utterly delightful Masha by the wonderful story-teller Mara Kay. Its a great story set in tsarst Russia about a girl who attends the Smolny Institute, a boarding school for girls, and her adventures there.
This splendid book was at my local library, but I couldn't locate the sequel, The Youngest Lady in Waiting. I searched far and wide – the requisite web-searches, putting the call out on noticeboards, registering with Amazon and E-Bay and renewing the Amazon wish list call-out I had several times and upping the price I was willing to pay.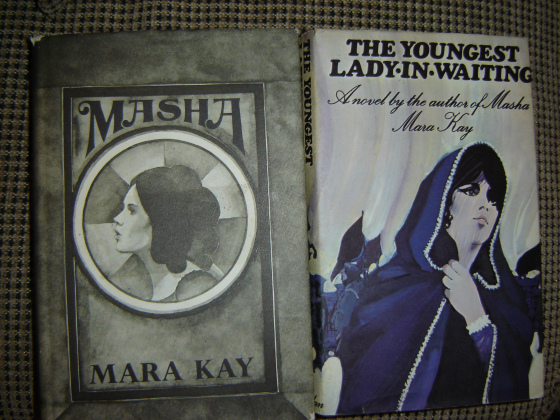 Problem was, no matter how much you were willing to pay, it was simply not to be found. A real rarity.
But one day, a catch. An email from Amazon that a private seller had responded. A sharp breath wondering whether my long and much anticipated search was finally over. First edition, hardback. Immaculate copy. Substantial sum paid.
When it arrived I was electric. Finally, it was in my hands!
Prior to receiving it I had re-read the prequel. So now I was ready to find out what happened to Masha.
And the reading of it was magic, or magick in a nod to dear Curt ;)
After finishing it I admired it sitting on one of my bookcases for awhile, wrapped protectively in tissue paper. But I also got the distinct sensation that it was not meant to stay in my hands. It should be read rather than stay on my bookshelf indefinitely.
So I parted with it for the same sum, gaining immensely from the opportunity to have read it.
The buyer, a young mother in the UK, snapped it up and was delighted to find it. She read both books to her girls she told me in an email exchange and it was a nice thing to know.
Next time … my other favourite novel of all time, in a very different genre … Arthur C. Clarke's sublime The City and the Stars. Also read when I was but twelve. And the accompanying story of how I wrote to this author of 2001: A Space Odyssey (by a serendipidous coincidence, I had befriended a girl from another school on the bus whose aunt happened to be his secretary, what a fortuitous coincidence!) and he wrote back. I still have the letter.