Caracas: 5000 houses can fit into a single golf course
Venezuela to seize golf courses
Guardian | Wednesday 30 August 2006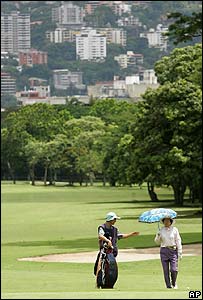 Venezuela's golf courses are seen as havens for the rich
The mayor of Venezuela's capital Caracas says he plans to expropriate two exclusive golf courses and use the land for homes for the city's poor. Mayor Juan Barreto has said playing golf on lavish courses within sight of the city's slums is "shameful".
Mr Barreto, an ally of President Hugo Chavez, has been trying to address a dramatic housing shortage in Caracas.
But critics say property rights are being eroded in Venezuela, where farms and ranches have also been seized.
Three years ago Mr Chavez's left-wing government started redistributing agricultural land that it said was underused to help landless peasants.
But this is the first time officials have announced plans to expropriate privately-owned urban land to make way for public housing, says the BBC's Greg Morsbach in Caracas.
Affluent suburbs
Mr Barreto had ordered the "forced acquisition" of the golf courses, city attorney Juan Manuel Vadell told the Associated Press.
He said compensation would be paid, at a level decided by an appraisal commission.
The golf courses – the Country Club and Valle Arriba club – are in the city's most affluent suburbs, home to millionaires, foreign diplomats and celebrities, and are seen by some as a haven for the rich.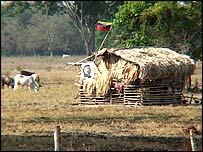 Venezuela has seized "idle" farm land for redistribution
They are also in districts run by the opposition.
Mr Chavez has not yet said whether he supports the move.
But opposition city council member Carlos Ciordia called the plans "electoral demagoguery" by Mr Chavez, who is hoping for re-election in December.
Fernando Zozaya, president of the Caracas Country Club, said "this has created great concern" among his club's members.
But Mr Barreto said: "It's shameful to see people playing golf and just right there in front of them is a shantytown."
"We are following the policies laid out by President Chavez… to give a new social direction to the city, so the city can be enjoyed by everyone," he said in a television interview.
Mr Barreto has said 5,000 people could be housed in the space taken up by a single golf course.