Prominent Hamas politician is seized
By Anne Penketh, Diplomatic Editor Independent 07 August 2006 |
Israel has arrested a senior Hamas leader at his home in Ramallah, expanding its original front against the Palestinians in Gaza.
The Israelis may try to trade Abdel Aziz Dweik, the speaker of the Palestinian parliament, for Cpl Gilad Shalit, who was seized in a cross-border raid by Islamic fighters on 25 June.
But Mr Dweik rejected such a deal yesterday.
The Hamas leader had known for some time that he was a marked man, and said two weeks ago that he was sleeping in a different place each night.
However, on Saturday, after at least two previous attempts to snatch him had failed, the Israeli army caught up with Mr Dweik, sending 20 army vehicles to surround his house.
Israel has stepped up its military response to the Palestinians since the armed wing of the Hamas government captured Cpl Shalit.
In addition to regular deadly raids on Gaza, where 1.4 million Palestinians are trapped by an economic blockade, the Israelis have arrested a third of the Hamas government and 36 members of the Palestinian parliament since 26 June.
The rest of the government, including the Prime Minister, Ismail Haniyeh, and the Foreign Minister, Mahmoud Zahar, are in hiding. Israeli warplanes have smashed the foreign and interior ministries in Gaza as part of incursions which have continued despite Israel's unilateral pullout from the territory last summer.
The US-educated Mr Dweik had continued to visit his office, and even made telephone calls on his mobile. He had sent his wife and family to safety in another city. "We are working against all the odds in the history of mankind, as a parliament and as a government," Mr Dweik said.
Speaking of the capture of Cpl Shalit, he suggested that the Israeli soldier was unharmed, saying: "there are rules of war in Islam – we said do not harm a prisoner of war."
The Palestinians had hoped that Israel would agree to a prisoner swap that could lead to the release of Cpl Shalit in return for thousands of Palestinians held by Israel, at a later stage.
The fate of the 10,000 Palestinian prisoners held by Israel has become such a burning issue for the Palestinian people that President Mahmoud Abbas endorsed a plan for a prisoner swap worked out with Egypt last month.
But Mr Dweik said that he would reject any Israeli attempt to free him instead of Palestinian prisoners in exchange for Cpl Shalit.
"Neither I nor my brother MPs want to be, or would accept being alternatives to our brother prisoners. If I live the rest of my life in prison, I won't accept [being] a card in any compromise."
An Israeli army spokesman justified the arrest saying: "He is the head of Hamas's legislature and since Hamas is a terrorist organisation, he is a target for arrest."
* * * *
Another Hamas politician seized BBC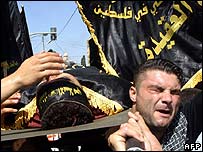 The Islamic Jihad militant killed in Jenin was buried on Monday
Israeli troops have detained another Palestinian member of parliament during an overnight raid in the West Bank. Fadl Hamdan, who is from the governing Hamas movement, was seized when troops raided his house in Ramallah. Israel has not said why it took him.
The incident came a day after Israeli forces detained the Hamas speaker of the Palestinian parliament, Aziz Dweik.
Israeli troops killed a militant near the West Bank town of Jenin on Sunday.
The man, a wanted member of the Islamic Jihad group, was killed when he refused to surrender and troops moved against the house where he was staying, Palestinian witnesses were quoted by The Associated Press as saying.
An Israeli military spokeswoman quoted by Reuters said the troops had come under fire.
In the northern Gaza Strip, an Israeli air strike destroyed a house on Monday but there were no reports of casualties.
Parcel scare
Israel has detained about 30 MPs and a third of the Palestinian cabinet in the past six weeks.
Palestinian officials have called on the international community to intervene to secure their release.
Palestinian officials say a number of government workers have been taken to hospital in Ramallah after one of them opened a suspicious package addressed to Palestinian Prime Minister Ismail Haniya.
Palestinian deputy Prime Minister Nasser al-Shaer has accused Israel of trying to assassinate him and Mr Haniya.
Reports said the package contained an unknown substance, which caused the workers to suffer breathing difficulties and headaches.
The package was delivered to the Palestinian cabinet building in Ramallah.
Officials said it was not immediately clear who had sent it, or what the substance it contained was.