UN body criticises US on rights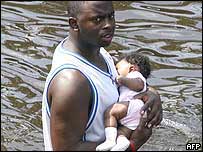 Help was slow in reaching many in New Orleans after Katrina
The US should immediately shut all secret detention facilities used in its campaign against terror groups, the UN Human Rights Committee has said. The UN report also covered the domestic human rights situation in the US.
It urged the government to ensure the rights of poor people and blacks were respected in relief efforts.
Lawyers for the US State Department said they were disappointed by the report, which they said was not a full analysis of the situation.
Treaty's scope
The UN panel said that both poor people and black people were "disadvantaged" in the wake of Hurricane Katrina.
It said the US should increase its efforts "to ensure the rights of poor people and in particular African-Americans are fully taken into consideration in the reconstruction plans with regard to access to housing, education and health care".
There should also be a moratorium on the death penalty, which appears to be imposed disproportionately on minority groups and poor people, the report concluded.
The committee's findings came after it held a two-day hearing in Geneva last week into US compliance with the 1966 International Covenant on Civil and Political Rights.
In its hearing before the panel, the American delegation said that issues relating to terrorism were largely beyond the treaty's scope.
But the committee on Friday said the US should review that approach and interpret the treaty in good faith.
The report is nonetheless expected to add pressure on Washington to change the way it is waging the war on terror.
Closure calls
The committee said it was concerned by "credible and uncontested" information that the US had detained people "secretly and in secret places for months and years".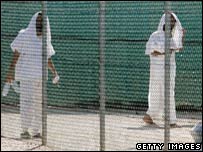 Calls have grown for the US to shut the Guantanamo camp
The US "should only detain persons in places in which they can enjoy the full protection of the law," the report said.
The US authorities should also allow members of the International Committee of the Red Cross to those it is holding in such facilities.
The committee's call comes two months after a separate UN body, the UN Committee against Torture, urged Washington to close its detention camp at Guantanamo Bay in Cuba.
Earlier this month, the Bush administration announced that all detainees held by the US military, including those at Guantanamo, were to be treated in line with the minimum standards of the Geneva Conventions.
The shift in policy came after the US Supreme Court ruled that the conventions applied to detainees.