Imperial Racism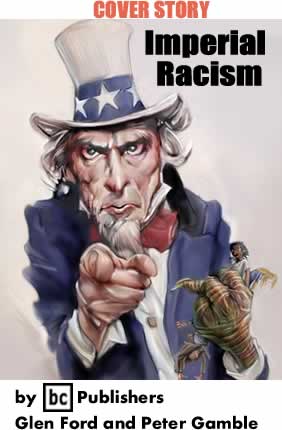 http://peoplesgeography.com/190/190_cover_imperial_racism.html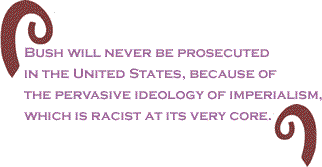 Racism, the ideology that came into full flower as a justification for European conquest of most of the planet, is now headquartered in the United States – with an annex in Israel. Tel Aviv is a very active annex.
There could be no justification for George Bush's aggressions, without the underlying assumptions of racial superiority. Bush has committed multiple crimes against peace – a capital Nuremburg offense for which a number of Nazis were hanged. He is a war criminal, many times over. However, he will never be prosecuted in the United States, because of the pervasive ideology of imperialism, which is racist at its very core: it dehumanizes the victims.
Race is, indeed, a construction – a very convenient one when you want to take someone else's property, or kill them, or enslave them. It is this construct that animates the American debate about foreign policy – or even domestic policy when it comes to "aliens" of one kind or another.

But it is deadly. It swarms countries, and consumes cities. Fallujah was flattened, with its main hospital the first target. Three hundred thousand people are now refugees in their own country, because of US actions, and an unknown number are dead. That is a war crime – but is not seen as such by most of the US public, who are under the sway of the ideology of imperial racism. The death of an entire city does not matter to them, because there were no real people there. Racism does more than color the situation – it defines it. How do you kill a city and call it victory? Why is this celebrated as a benchmark of "progress"? Is the assumption that the white man's triumph is, inherently, progress?
Of course it is. That's what imperial racism is all about. There are "enemies" and "others" who are not "Western" – a euphemism for "non-white" – the construct they keep making up every time they want to steal something.

The hard-right Israelis are very good at this game. They are on totally racial mission, and have made their construct. Jewishness is a race, in Israel, with rights that only accrue to Jews. We are supposed to believe that Jews have a right to shape Palestine in such a way that they always have a majority. How does that conform with any democratic principle?
Now the hard-right regime in Jerusalem is making war against the entire Palestinian society, destroying its infrastructure – its bridges, roads and energy facilities – to make all 1.2 million inhabitants of Gaza pay some kind of price. However, it is a price that can not be paid. The extremist Israelis are racial imperialists who are not looking for anything other than the mass elimination of a people from the land. They have invested the firing of tens of thousands of rounds of artillery into one of the most crowded corners of the world to achieve this purpose: but their motives are well understood by everyone who is not a racial imperialist.
Everyone, that is, except the (white) Americans, who eat this crap up. The uniform reaction of the American corporate media to the U.S. Supreme Court's decision that something resembling the rule of law must prevail at Guantanamo Bay and other U.S. installations, has been to frame the issue in domestic political terms. The Bush administration had been politically tarnished, was the conclusion: not that it had violated international law, and was in fact an outlaw among nations. The situation has been framed as one of domestic political peril for Republicans – maybe in November – but not how the U.S. gets along with the rest of the world.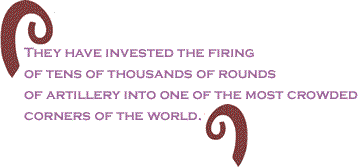 In the same way, the Israeli "incursions" into Gaza and the West bank have been framed as defensive measures, even as the world's forth-strongest military power relentlessly pounded a people who have virtually no military with thousands of rounds of artillery a day. As the entire world knows, Israel could not possibly have amassed such an amazing war machine, unless they had been subsidized by a superpower. And, of course, they were.
In the Arab world, and the larger Muslim world, the "incursions" are seen as alien invasions, and as a threat to their own societies. The Israeli Zionist project is never discussed in the U.S, and now it has become forbidden to speak of it.  Meanwhile, a reign of terror exists in Gaza and the West Bank. The terrorists are the Israeli government and armed forces, but instead our own media keeps showing us pictures of a goofy-looking Israeli soldier, while a whole people are being strangled and bombed.
None of this could happen, if there were not racial imperialism, in which the Jews of Israel were considered "white" – and, therefore, had inherent rights. White Americans also think they have rights that not nobody else possesses. There is a connection between the extremist Zionist scheme and the umbilical cord of imperialism. Here is the result, that places the Zionist perspective and the "American" worldview in proper place.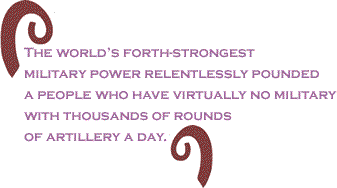 Just as the Americans obliterated Fallujah, Zionists in Israel want to wipe out whole cities. Gaza City has to go. Up in flames. Member of the Knesset, Moshe Sharoni, taunted his Arab colleagues in the Israeli parliament. He said:
"We need to obliterate Gaza and call it the City of Murderers, the City of Terrorists."
This is the mentality of mass murderers.
But then, you can only murder real people. Imperialism kills non-people. That's the nature of the beast. It can only act that way.
Who is wagging this dog? Many of these people are from Brooklyn. American racism and imperialism are the same thing. It appears to have been efficiently exported.
Written by BC Publishers, Glen Ford and Peter Gamble.